Come relax with year-round island living at SeaSide Garden Retreat, a small, private annual-lease community with lush tropical gardens located on luxurious Longboat Key, Florida. The white powder sand beaches of Longboat Key are some of the finest in the world and are only steps away.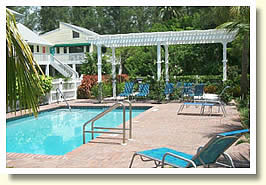 We offer annual lease options for our Key West style two-bedroom villas. All have private outdoor sitting and dining areas, some with beautiful views of the Gulf sunsets. The bright interiors have brought the beautiful shades of the tropical flowers into each room. Our accommodations and gardens have been created by two of the areas top interior and landscape designers.
Villa sales and annual leases at SeaSide Garden Retreat on Longboat Key offer more than a great resort and fabulous beaches. Across the bay is the City of Sarasota, the art and cultural center of Southwest Florida, where you can be inspired by fine art museums, entertained by a Broadway play or Italian opera or taste the internationally inspired dinners at award-winning restaurants. Great shopping abounds on Longboat Key and the surrounding areas. You're only minutes from one of the most renowned shopping areas in the all of Florida, historic St Armand Circle,
A stay on Longboat Key can meet the needs of almost any style of living.
If you love to play where you live, you'll be able to easily stroll the white sand beaches at sunset or just relax under the white garden pergola by the pool with a good book and glass of wine. A wide pedestrian path, right in front of our resort, allows easy strolls to the beach, shopping center, library, post office, public tennis club, local parks, and nearby churches.
If you love to live by areas filled with great shopping adventures... shopping options abound in the area. You're just minutes from historic St. Armand Circle, where a world-class shopping experience awaits, with the excitement of shopping at its famous collection of small boutiques, the beauty of it's lush tropical gardens and magnificent sculptures and the delectable tastes of it's sidewalk cafes.

If you love living with evenings filled with entertainment... you're a short drive away from seeing a major Broadway musical, top name entertainers, Italian opera,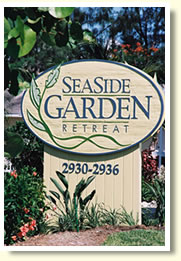 Russian ballet, a nationally recognized symphony orchestra or an international film festival.

If you love living a life filled with recreation and sports activities... the abundant local golf courses, deep-sea fishing charters, sailing yacht charters, local tennis club and professional sports teams (NFL, MLB, and NHL) will provide all the excitement and challenge any sports enthusiast could want.
If you love living that reconnects you to nature... the colorful tropical blooms of over 50 plant types in our large gardens will delight you. See and touch the abundant marine wildlife at the Mote Marine Research Center only minutes away on Longboat Key. Eco-tours are also available in the bay and rivers where the beautiful manatee live and play.

Or maybe you love living like we do - in places that include a little of them all!

Do give us at SeaSide Garden Retreat a call and see if we can help you create a living experience that you'll enjoy... year after year.